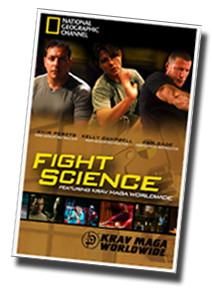 The air date is set. The new episode of Fight Science called "Human Weapon" is scheduled to premiere Thursday, February 18 at 9pm on the National Geographic Channel. Featured are Krav Maga Worldwide instructors Kelly Campbell, Jonathan Dugas, Amir Perets, and Sam Sade.  Be sure to watch!
Here's the NatGeo link. Go to the main page to see Sam as a carjacker shoving a 9mm in your face!
Bored at work? Play the Fight Science Game!