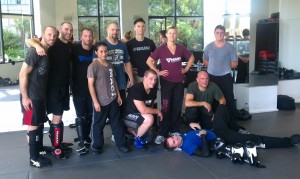 On Sunday I successfully completed Expert Series I, the Level 4 instructors test at Krav Maga Worldwide National Training Center in West LA. I learned a great deal from instructors Kelly Campbell and Matt Romond. As usual, I have a ream of notes to compile, and I'm very excited to share with everyone.
We were certainly an accident-prone group, with two concussions, a back injury, a smashed zygomatic arch, my broken nose, and more than enough dings and dents for everyone. Yet I still had a great time and must thank my fellow instructors Molotov, Trey, Jackie, Chris, my training partner Richard (who was also my partner for Phase C), Nick, Josh, Jake, Adam, and Matt.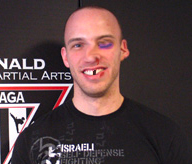 Thanks to Brian and all at the Academy for helping me train. Thanks most of all to Danelle for attacking me with guns and sticks and knives for the past several months, and also for allowing me to come back home with a busted face! We're going to have to invest in a training rifle to get ready for Expert II…
Despite my impaired breathing, I felt stronger and better prepared for this test than I did for any of the previous three. I know some of you are S&C geeks like me, so I'll be posting a write-up soon about the training methodology I used.
I will unfortunately be out of physical training for a bit to tend to my crooked schnoz, but rest assured I'll be incorporating new material in classes as soon as tomorrow!