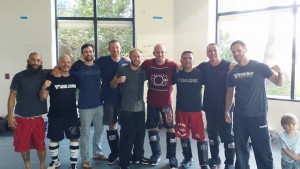 I successfully completed the Krav Maga Black Belt instructors test this past weekend at the Krav Maga Worldwide National Training Center in West LA. I did this alongside an incredibly talented group of fellow instructors: David Duhamel, Roger Lopez, Armondo Mendivil, Matt Schaefer, and Britt Soden. They were tremendously skilled, evidenced both by everyone passing (apparently a rarity) and no one going to the hospital! I could not have asked for a better partner than Britt, and I'd like to think that we helped each other look and perform our best on test day. Our awe-inspiring-as-ever course instructors were Kelly Campbell, AJ Draven, and Junior Merkle*.
The test was the day after the ninth anniversary of my first Krav Maga class. Not only was the timing serendipitous, but for me it heightened the reflection and perspective of such a culminating event. This was not a solo endeavor, so I must say…
Thanks to Brian for being my instructor and mentor for these past nine years, and for giving me the opportunity to teach in his school. In recent weeks he has indulged my OCD in analyzing training videos. He also made the trip out to watch my test, and knowing he was studying my every move from six feet away was a terrific motivator in the latter hours of the test. I hope I represented him and the Academy well.

Thanks to everyone who trains with me, especially James, Julian, and Marc, who so often stayed late after class and came in on weekends to run me through the gauntlet. The work we put in made such a difference in my preparedness.

Thanks to all the students of the Academy for constantly motivating me to be a better instructor through analyzing and testing the system in response to questions and comments.

Thanks above all to Danelle, who started this crazy Krav adventure with me and has tirelessly supported my drive to do this despite how often I pester her with programming and nutrition hypotheticals…!
I'll never be one to rest on laurels, so I'll see you all back on the mat this week!
* As usual, Junior had the most memorable quotes. During the test, he noticed I was holding back and not exerting enough dominance in the grappling rounds. He motioned me over and barked, "Do you think we forgot you're a f@#$ing black belt? Don't make it easy for them!" At the end of the test, he jumped in to help with 2-on-1 sparring and yelled at David, "C'mon! Hit me, f@#$er!" AJ was absolutely correct in referring to Junior as a "crazy little dude".